So, I'm a member of this community and the theme was super heroes.
So, we had to like... post things based on super heroes
and... my REAL LIFE hero is Geoff Rickly...

So, I just gave him some super powers and stuff..

AND THIS IS WHAT I MADEE!!





Okay, so my hero is Geoff Rickly.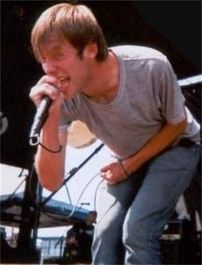 You may all know him as the lead singer of the amazing band, Thursday, BUT...



He has an alter ego.


He's a crime fighting super hero.
He makes sure that New Brunswick, New Jersey; and most of the rest of the country
Is safe at all times.


Here is one of his tales!!!


One afternoon, Geoff was JUST getting out of a show when he was stopped by a man...






Geoff Rickly was shocked, and he knew he had to take action imediately.

First thing he did was warn the good people of New Brunswick.





The residents were frightened, but they knew they had NOTHING to worry about, because Geoff could handle almost ANYTHING/MONSTER/FLOCK OF ANGRY BIRDS he was faced with!




When Geoff arrived at the city, there were crows everywere. Circling the sky, flying through car windshields, STEALING THURSDAY RECORDS from shops... He knew he had to do something FAST.





After thinking for a few seconds, Geoff finally had a plan!




He used his super hardcore brain power to tap into the the crows minds.
Once he was in total control over all of them, he used his morphing power...


to transform the crows... into...




DOVES.

The doves quickly flew off into the sky, one by one dissapearing into the horizon...


The people of the town quickly went over to Geoff to thank him for his work.


All this positive energy was making Geoff excited.
So, he invited all the towns people to his house.. where he put on a show for them..





Once again, the day is saved! Thanks to... Geoff Rickly!!!



THE END!!
A closer look...


Ordinary man??




I THINK NOT!!




(This might be a little ridiculous, but I have insomnia... and a lot of time)
<3patrice



I figured I'd post this... because I'm bored.
and insane.
and yeah... its Geoff.